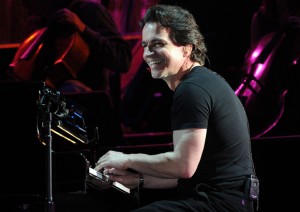 Yanni, the self-taught Greek instrumentalist know for his blend of jazz, classical, soft rock and world music, performs.
DETAILS >> 7:30 p.m. Sunday, July 15. Comerica Theatre, 400 W. Washington St., Phoenix. $61-$148.50. (602) 379-2888 orwww.livenation.com.
Yanni
Composer Yanni performs for students at GRAMMY Soundchecks in The Nokia Theater on Tuesday, June 23, 2009, in Los Angeles. The GRAMMY Soundchecks engage students in conversation with the artists and their touring staff about the specifics of their careers and the necessary preparation for success.
From: East Valley Music Event – from East Valley Tribune
by