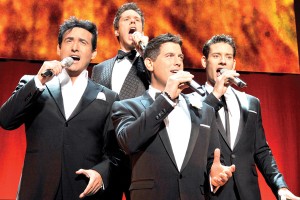 By Stephanie Perrault, Tribune
Some call them a hybrid. Others say they're a crossover. Urs Buhler, the group's Swiss tenor, prefers to just be Il Divo — the divine ones.
Founded in 2003 by entertainment mogul Simon Cowell, Il Divo consists of Buhler, American opera star David Miller, French pop artist Sebastien Izambard and Spanish baritone Carlos Marin. The internationally beloved male vocal group sings classically arranged pop tunes in Spanish, English, Italian and French.
Touring through six continents and 30 countries in support of the album "Wicked Game," the impeccably clad quartet performs Thursday at Comerica Theatre.
From: 5 questions with Il Divo's Urs Buhler
by