Ashley Cavasino
From your first phone call through to the day of your special event, our staff, DJs and polished MCs make it their goal to bring your vision to reality, and then provide just the right party atmosphere that is guaranteed to keep your guests on their feet and having an amazing time!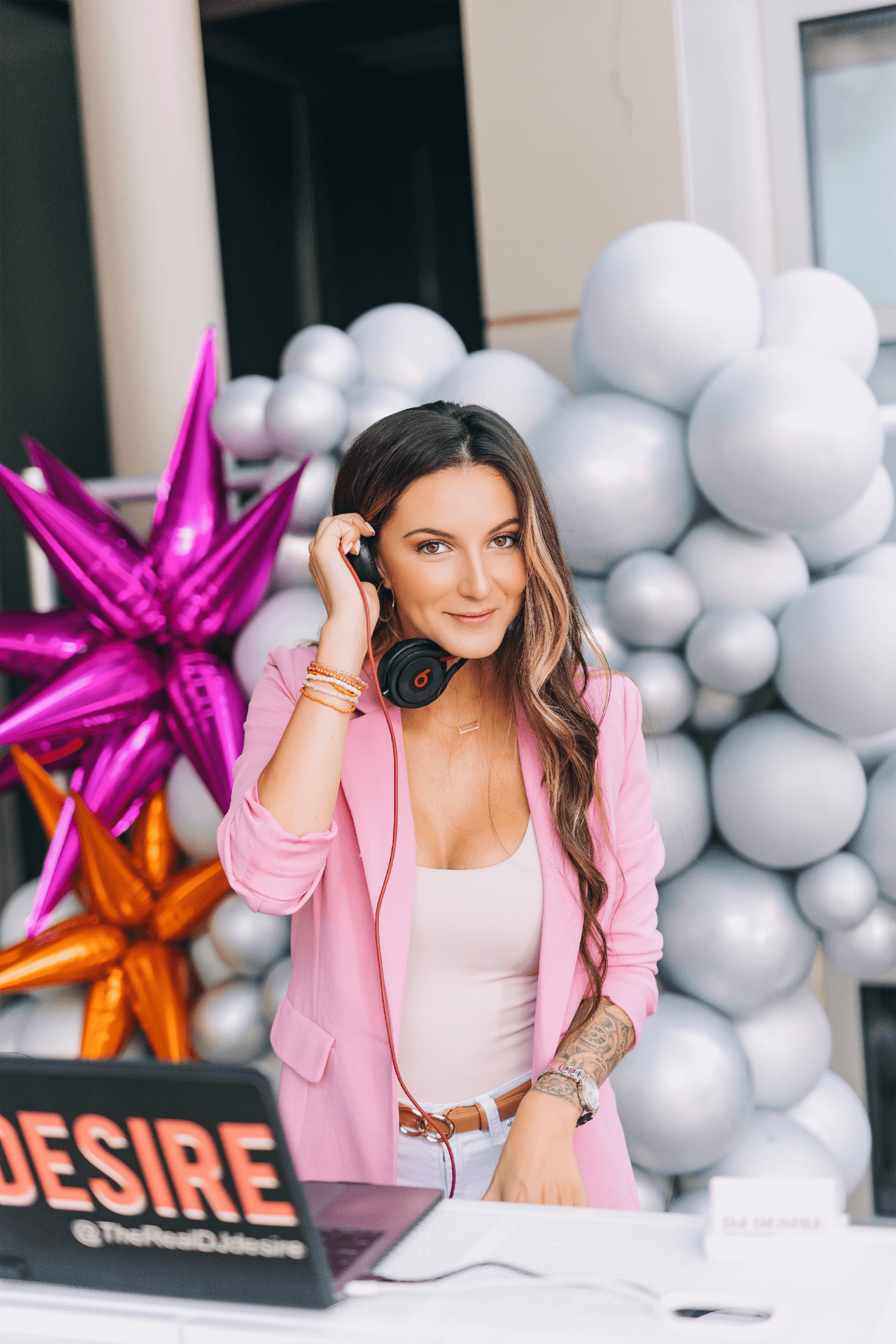 Ashley Cavasino
DJ | Event Host
Ashley Cavasino, DJ Desire, was born with music in her DNA. Growing up in the greater Los Angeles area, she was exposed to her father's DJ Service company and was heavily influenced by his ability to cater to the crowd and command a dance floor. With a background in hip hop dancing and an undying love for pop culture and music, she began teaching herself how to DJ using her father's turntables (Technics SL-1200s). Party after party, song after song, she just knew she had a calling. She learned that commanding crowds and directing dance floors with her music selections and crafty mixing skills was what she desires most in life, defining herself as DJ Desire in 2010. 
 She began providing DJ services at the age of sixteen, focusing on private and corporate parties. She began DJing her first of countless weddings at only seventeen while also working her mixes into the nightclub scene a year later.  She then gained an on air DJ residency with the 805's #1 Hit Music station 103.3 The Vibe, and received a featured spot years later for the 805's Hip Hop and R&B station Q95.9. She has also performed at several nightclubs in the Ventura County and Los Angeles area including Bogies Nightclub, Avalon Hollywood, Exchange LA, True Hollywood, Project LA, OHM Nightclub, Tonic Nightclub, Wildcat Santa Barbara, and more! 
 By her 22nd birthday she took her MC skills to a new level by DJing and working as an entertainment host on board two cruise ships with Carnival Cruise Lines DJing in the Bahamas & Caribbean. She returned home a year later getting the corporate attention of the Walt Disney Company becoming a resident DJ for Disney's movie release parties where she has DJ'd for the stars of Disney films such as Captain America: Winter Soldier, Need for Speed, McFarland, The Finest Hour, and The Jungle Book to name a few. She has also DJ'd within the professional sports realm, landing a residency DJing massive tailgate parties for the LA Rams mega fan group, World Tour Rams during the 2017 and 2018 NFL season. She later performed for the US Women's Soccer team at the Nissan Stadium in Nashville for the She Believes Cup the following year. 
 In 2019, DJ Desire experienced a touring residency DJing for the 1000 Lights Water Lantern Festival where she helped spread their mission of unity and respect across the US. She also spent 2019 living in Memphis, TN where she gained a residency DJing on the world famous Beale St. at Tin Roof and at several other college nightlife venues such as The Bluff and The Levee in Oxford, MS. She also branched out into the fitness world DJing for brands like F45 Training and Lululemon. 
 Today, she continues to DJ mobile events, but comes most alive when performing live on the radio, at nightclubs, festivals, and silent discos. She also has experience DJing for silent disco events, and now remotely manages a fleet of DJ's booking talent for a wireless headphone service company called Sound Off. Currently living in Scottsdale AZ, she continues to DJ mobile events with her own complete DJ system while also making her mark as an open format nightlife DJ.
PROFESSIONAL. FLEXIBLE. RELIABLE. AFFORDABLE.
Click the button below to learn more about working with us